Peyton Manning was a Colt, now a Bronco
Broncos owner Pat Bowlen introduced Peyton Manning to reporters today at the team's headquarters at a news conference, which was aired live locally and nationally on ESPN2.
The news conference was schedule for 1 p.m. and started about 20 minutes late.
Bowlen said "this is sort of a historic meeting today. We're glad to have two Hall of Fame quarterbacks.
"Our goal has always been to win Super Bowls. Peyton gives us another chance to win a world championship.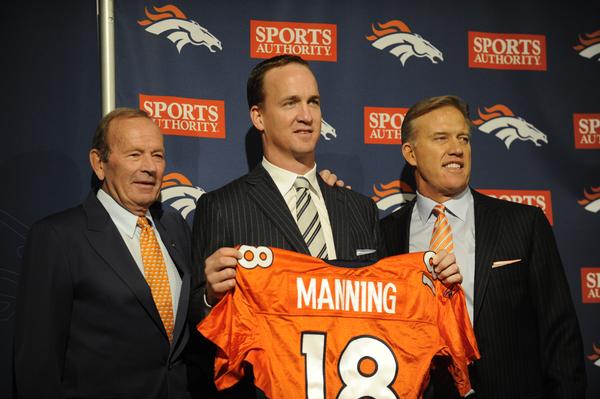 John Elway came up next and thanked Bowlen for the chance to get Manning.
"We are fortunate to work for a guy like Mr. Bowlen. Without the commitment of Mr. Bowlen we wouldn't have Peyton here today," Elway said.
Elway
said he thinks Manning has "a lot of great years" to play football.
"My goal is to make Pm the best quarterback to play the game," Elway said. "He's a guy that will make our football team better, just because of the type of person he is," Elway said.
Manning likes Broncos best
Manning thanked the teams he visited, but "In the end, I felt the Broncos were just a great fit. Elway is one of the best quarterbacks to play. Talking football with John, coach Fox and his staff made me realize this is a great place to be."
Making the pick
Manning said he woke up Monday morning and "first called the two other teams that were finalist in the process to let them know I appreciated the time.
"Having my first visit here, I felt very comfortable here. John and Coach Fox felt comfortable, and hopefully that leads to many wins."
Solid staff to join
Manning said he was going to meet today with the training staff and also "I'm going to stay there through the week and get situated."
After meeting with the Broncos staff, Manning said "I knew these guys knew what they were doing and were committed to winning."